Add Time To Your Day - Fly On Your Schedule

AccessAir operates a pressurized twin-engine Cessna 414 which is a cabin class aircraft that is spacious and comfortable enough to seat 6 passengers. The Cessna 414 offers passengers the privacy to work or relax while traveling and includes a private lav for those longer trips. Travel on you schedule and let us get you closer to your meeting place, saving valuable time and energy. Whether you are planning an overnight or same day business trip, or an extended family holiday, our air travel expertise provides you with a safe, stress free, personalized flight experience.
---
Depart from the airport of your choice in the Baltimore Washington area. With charter rates as low as $785/Hour, contact us for your next business or personal trip.
---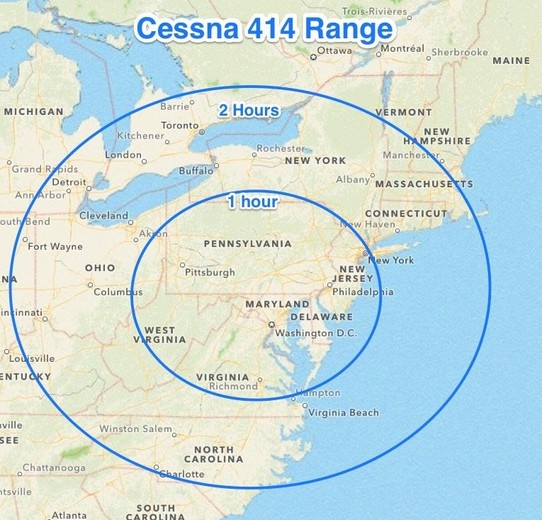 TYPICAL 2 HOUR RANGE
With a non-stop range of almost 300 miles, our twin engine Cessna 414 can efficiently reach destinations throughout the Mid-Atlantic, New England and the Southeast in 2 hours or less.
---
KNOW WHO OPERATES YOUR CHARTER FLIGHTS
AccessAir operates with its own fleet of aircraft and flight crews. If your travel requirements or destination takes you beyond our Cessna 414 range capability, or you require more seating capacity, we can arrange an alternate aircraft more specific to your trip needs.
AccessAir will find an affiliated charter plane flights who operates under the similar safety principles and with aircraft maintained to our standards. For alternate aircraft options, click here: Aircraft Options